The eco-resort "Ust-Aleus" is located in a green and picturesque location, just 150 km from the city of Novosibirsk on the shore of the Ob Sea, in the protected from the winds bay of the Aleus river. Any holidaymaker can find something to suit his/her taste: swim in the bay, sunbathe on the beach, pick mushrooms and berries in the forest, fishing, shisha; and during winter period: slide skating and tubing, walk in a winter forest; cook shashlyki or kebabs; to arrange a bath tour: Finnish sauna or Russian banya; winter fishing.
At your service:
"Parus" café (set menu or à la carte dishes)
Banquet hall for celebrations or seminars
Dining room, fully equipped for self-catering
Gazebos, individual fireplaces with barbecue
DVD + karaoke, Wi-Fi, satellite TV
Wellness center with a terrace on the bay
Russian banya
Boats and catamarans rental
Sports grounds (volleyball, table tennis, badminton)
Kids sports village
Car parking
How to get there:
On the route Novosibirsk – Kamen-na-Obi after Spirino village follow the signs.
For regular customers there is a loyalty programm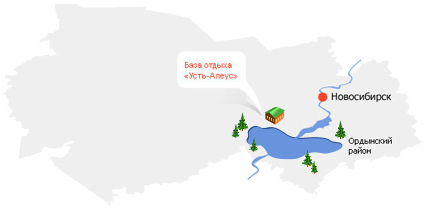 Anfahrt:
Auf der Strecke Nowosibirsk – Kamen am Ob nach dem Dorf Spirino gibt es Wegweiser an der Kreuzung. Weiter muss man den Wegweisern folgen.
Für Stammkunden bietet das Öko-Resort "Ust-Aleus" spezielle Rabatte.